Advancing Higher Education and Workforce Development Policy
As an enthusiastic researcher and statistician, Patrick J. Kelly spends his entire career striving to better inform higher education and workforce policy decisions across the United States – finding along the way common threads that can be woven through the on-going development of human capital. Patrick's commitment will always be to adapt effective solutions to the unique demands of each organization, state, system, or college.
Bridging the Divides between Data, Research, and Practice
Patrick J. Kelly, Ph.D.
Successful
Recognized national expert who has guided state, system, and college policy and practice reforms.
Experienced
Brings decades of experience working in higher education policy and research.
Professional
The commitment will always be to adapt effective solutions to the unique demands of each state, system, or college.
"First you figure out what each one means by itself, the jingle, the periwinkle, the scallop full of moonlight. Then you begin, slowly, to read the whole story."
Providing Strategic Input
Providing strategic input, direction, coordination, and research and policy support to assist higher education systems and institutions in optimizing their vision, defining and measuring goals, addressing racial and ethnic equity gaps, and organizational finance.
Leading and Managing Design
Leading and managing the design and completion of research and strategic planning projects.
Conducting Detailed Analysis
Conducting detailed analysis and research to provide high-impact recommendations to senior college administrators and other key stakeholders.
Investigating and Establishing Connections
Investigating and establishing connections between higher education, workforce needs, and economic development.
Developing and Fostering Philanthropic Efforts
Developing and fostering efforts supported by philanthropic organizations to improve higher education and workforce development.
Highly Regarded for Political Acuity
Highly regarded for political acuity, tact, interpersonal skills, and presentation abilities.
Leading Complex , Multi-Stakeholder Projects
Outstanding strengths in leading complex projects involving multiple stakeholders with common and competing interests.
Demonstrated Skills
Demonstrated skills in understanding complex issues related to institutional policies and practices, and managing competing interests in policy development within organizations.
Managing Project Implementation
Skilled at planning, coordinating, and managing project implementation and financial resources needed to meet goals.
Featured Organizations Patrick Has Served
Patrick has had the pleasure of serving a variety of higher education and workforce development organizations during his illustrious career, including:
Higher education SHEEO and system offices in many U.S. States.
Universities and community colleges across the United States.
Workforce and economic development organizations in many U.S. States. (i.e. chambers of commerce, business roundtables, etc.)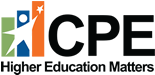 Aspen Institute
Council for Adult and Experiential Learning (CAEL)
Council of State Governments (CGS)
Excelencia in Education
Delta Cost Project
Complete College America (CCA)
State Higher Education Executive Officers (SHEEO)
New England Board of Higher Education (NEBHE)
Ford Foundation
Indiana Chamber of Commerce
Joyce Foundation
Lumina Foundation
Midwestern Higher Education Compact (MHEC)
Western Interstate Commission for Higher Education (WICHE)
National Association of Latino Elected Officials (NALEO)
National Conference of State Legislatures (NCSL)
National Governors Association (NGA)
National Center for Public Policy and Higher Education (NCPPHE)
National Postsecondary Education Cooperative (NPEC)
Southern Regional Education Board (SREB)